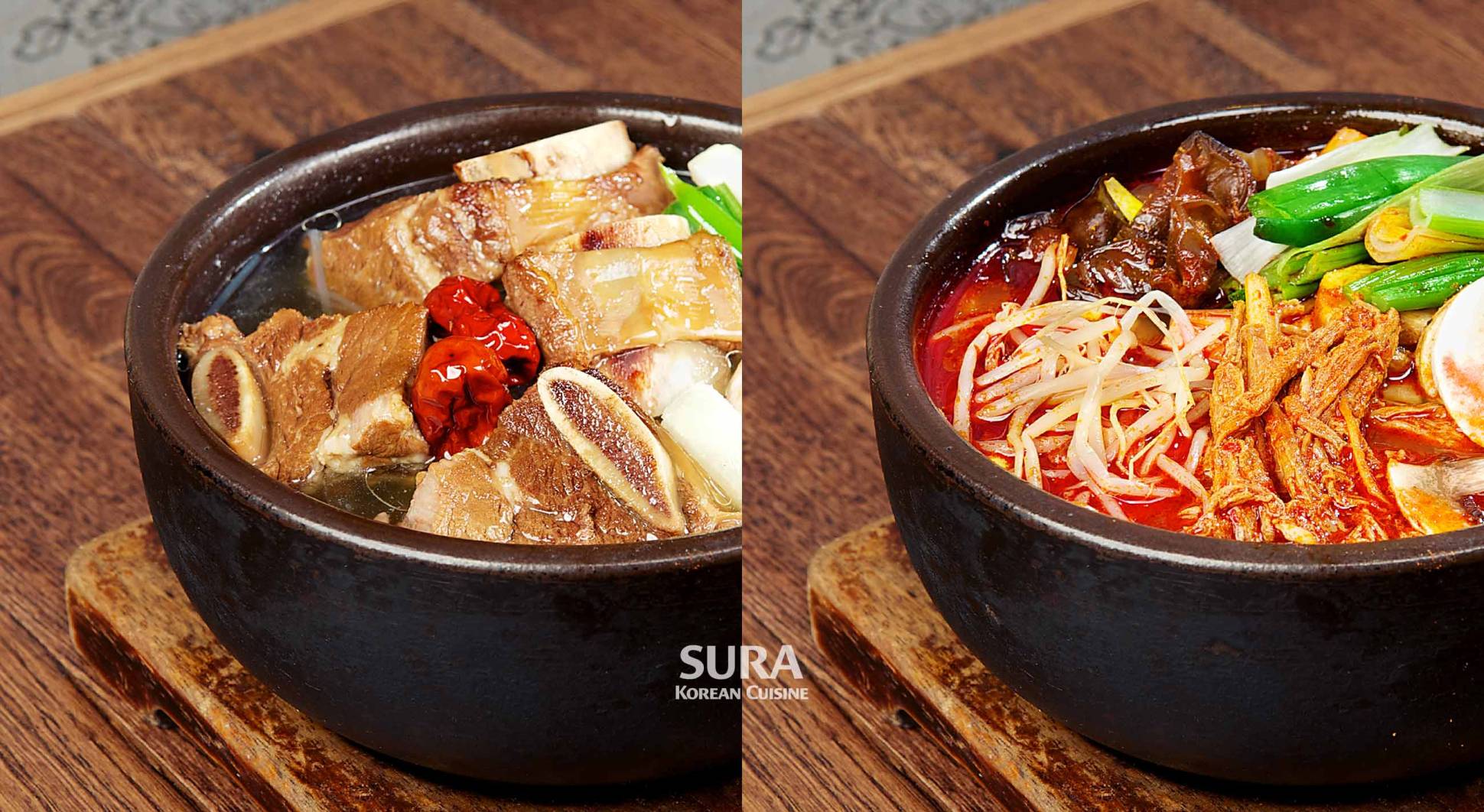 Sura Autumn favourites!
Autumn is finally here! Not just cooler temperatures and more rains. Here in Vancouver, we have the beautiful colours, the comfort food, and the inviting scents. There's just something different in the air since the autumn has come. Pull out your favourite snuggly sweater and get some pumpkins to put on your front porch. And here at SURA Korean Restaurant Vancouver, we invite you to visit our restaurant where you can enjoy delicious Korean hearty soups!
Galbi–tang
浓香牛排汤 (浓香牛骨高湯,两块腌制牛仔骨)
Galbi–tang [kalbitʰaŋ] is a variety of Korean soup, made primarily from beef short ribs (Galbi) along with stewing beef, daikon, onions, and other ingredients. The clear and hearty soup is made by slowly simmering beef short ribs in water for a long time.
Yukgae–jang
辣香牛肉汤 (牛肉丝,洋葱仔,豆芽,蘑菇)
Yukgae–jang is a spicy Korean hearty soup made from shredded beef with scallions and other ingredients, which are simmered together for a long time. It is one of the most popular Korean hearty soups, which was formerly served in Korean Royal Court Cuisine. It is believed to be healthful due to its ingredients. In addition to shredded beef, scallions, the dish sometimes — depending on the season — includes bean sprouts, bracken fern, taro stems, sliced onion, sweet potato noodles, garlic, and wild sesame seeds.
All sound delicious! Thanks for liking SURA Korean Restaurant Vancouver, and we hope to see you soon!
Like our Facebook page to win a $100 gift card in our monthly draw!
SURA Korean Cuisine Restaurant Vancouver
。。。。。。。。。。。。。。。。。
SURA Korean Royal Court Cuisine:
Best Korean winner of Vancouver Magazine's 2013 Restaurant Awards
Silver Korean winner of Vancouver Magazine's 2014 Restaurant Awards