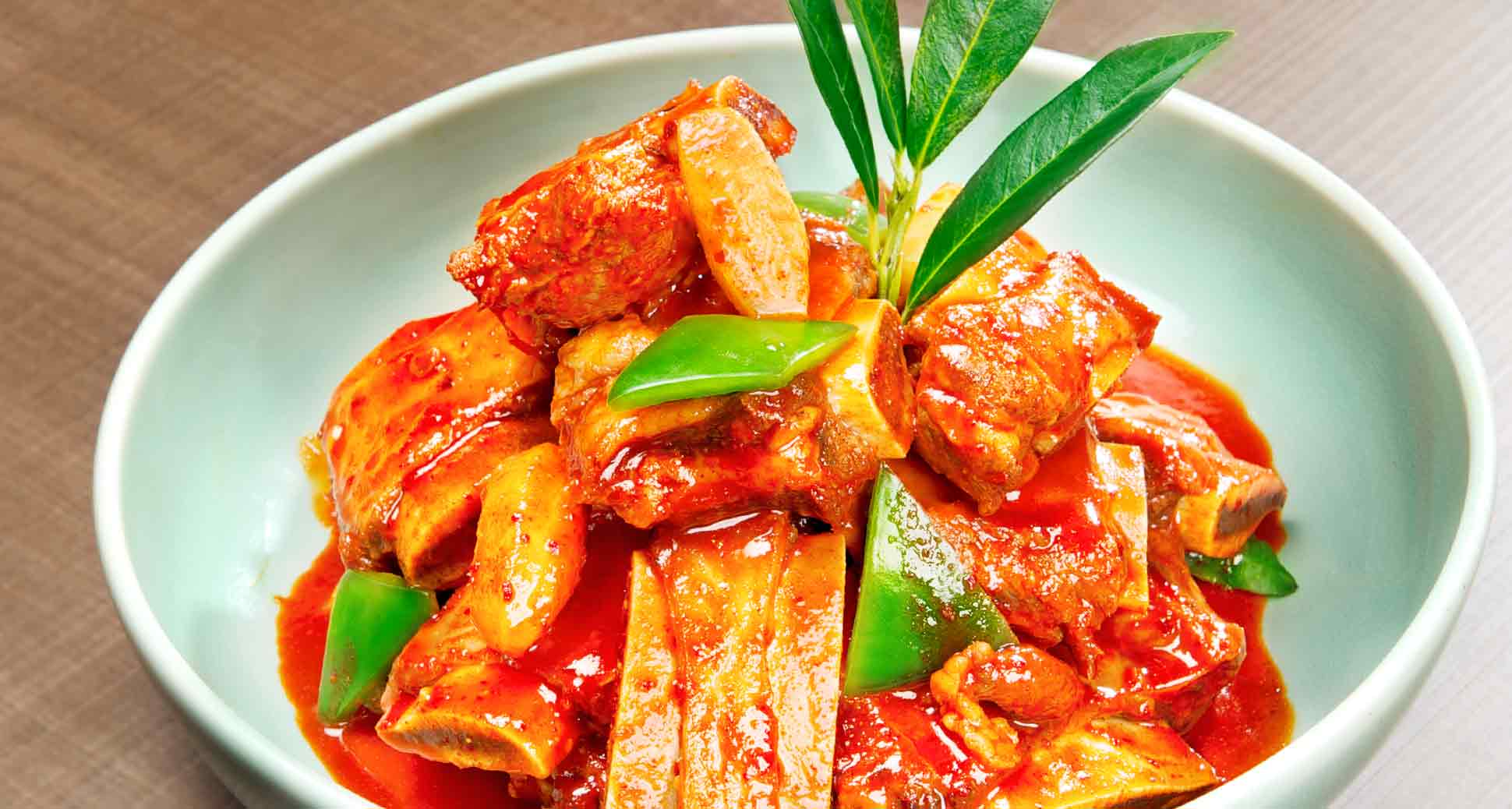 Sweating out to actually cool down: spicy galbi–jjim
Have you ever wondered why cultures in the hottest locations on earth eat food flavoured with hot chile peppers and spices that make you sweat? There is a reason, and it's actually pretty smart when you think about it — spicy food make you sweat, which in turn helps you cool down faster. It's as simple as that!
Though you may be inclined to cool down with a tall glass of iced tea, ice cream or watermelon on a sweltering summer's day, the effect isn't lasting. After a while you're back to where you started — hot and bothered. That's because your internal temperature is cooled too rapidly, and your body ends up compensating by raising your temperature. As a result, you feel hotter.
Eating spicy food works differently — it raises your internal temperature to match the temperature outside. Your blood circulation increases, you start sweating. And once your moisture has evaporated, you've cooled off. Scientists call the phenomenon "gustatory facial sweating," because indeed you usually start sweating in the face first.
Even though eating spicy food on a hot day isn't the most pleasant for many people, it may be worth doing so because after sweating it out you do actually cool down. What do you think: is it worth it? Yes, absolutely with SURA's delicious Spicy Galbi–Jjim! It's an authentic Korean dish of braised beef short–ribs with vegetables in a hearty and spicy sauce!
This traditional dish has been enjoyed on special occasions like holidays and large gatherings, and many Korean people cite it as their "most" favourite dish because of its spicy yet sweet flavour. The braised beef short–ribs are so tender and succulent they melt in your mouth! Most traditional Korean meat dishes like this one take considerable time and preparation (and deservedly so), but you can enjoy this iconic Korean Spicy Galbi-Jjim here at SURA Korean Cuisine Restaurant.
You may enjoy Spicy Galbi–Jjim as a meal, served alongside steamed rice and kimchi, or as an awesome late night snack throughout the night while enjoying your drinks with your besties! SURA is so proud to serve the most authentic version using only the freshest & the finest ingredients available!
Click HERE to view our mouthwatering Spicy Galbi-Jjin on our menu!
Article source: Huffington Post
SURA Korean Cuisine Restaurant Vancouver
。。。。。。。。。。。。。。。。。
SURA Korean Royal Court Cuisine:
2018 Best Korean winner of Georgia Straight 21st Annual Golden Plates
2017 Best Korean winner of Georgia Straight 20th Annual Golden Plates
2016 ‎Best Korean winner of Westender Best of the City Dining
2015 TripAdvisor® Certificate of Excellence
2014 Silver Korean winner of Vancouver Magazine's Restaurant Awards
2013 Best Korean winner of Vancouver Magazine's Restaurant Awards