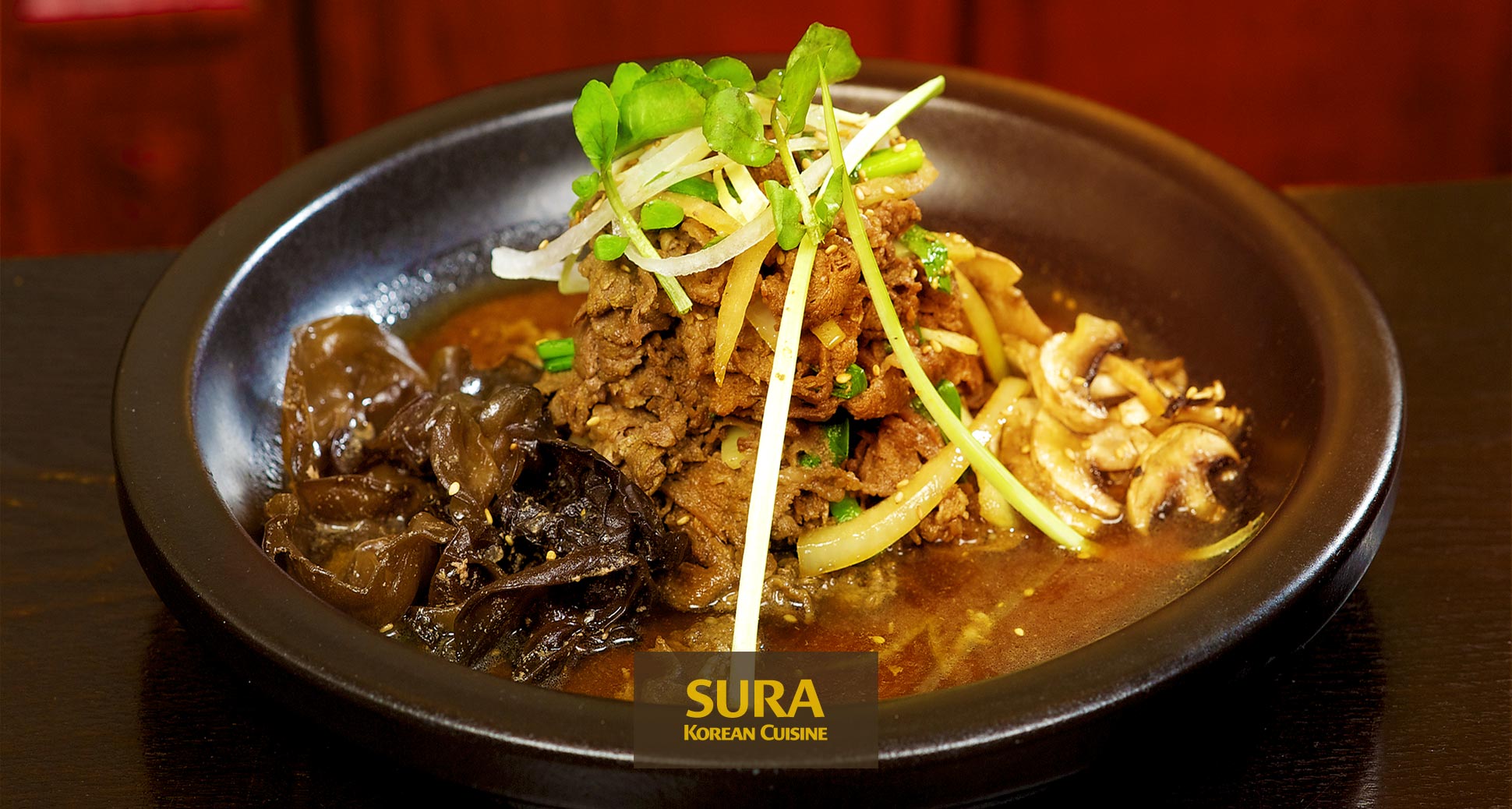 Bulgogi: a staple for every happy bellies
Bulgogi, a very famous Korean dish, is stir-fry of thinly sliced tender ribeye with mushrooms in house special marinade. Although it's now quite well known to be listed at number 23 on the World's 50 most delicious foods readers' poll compiled by CNN Go in 2011, Bulgogi is most often referred to simply as Korean barbecue. That is in fact simplifying matters a tad too much, we should say.
The word "bulgogi" itself just means "grilled meat" in Korean and the meat can be anything from chicken to pork — but over here at SURA, it's always beef, Korean favourite. The thin slices of beef are marinated in soy sauce, ginger, sesame oil, sugar and other spices before stir-fried. This fantastic dish is usually served with a side of lettuce, spinach, or other leafy vegetable, which is used to wrap a slice of Bulgogi, often times along with a dab of Korean spicy paste and vegetables, and then eaten as a whole. Doesn't it sound just yummy? Not just yummy though.
CNN says "A bowl of bulgogi gives everything you need in a balanced diet — carbohydrate (rice), protein (beef), vitamins and minerals (mixed vegetables), and fat (oil). Four good reasons to order a second bowl." At SURA, we take pride in using only the freshest & the finest ingredients available to serve our outstanding customers with this delicious and healthy Korean food.
So, there comes a time when you want to impress your dining-out guests, try this amazing Korean beef dish at SURA Korean Cuisine Restaurant (view it on our menu), and you're home free — with a happy belly!
SURA Korean Cuisine Restaurant Vancouver
。。。。。。。。。。。。。。。。。
SURA Korean Royal Court Cuisine:
2017 Best Korean winner of Georgia Straight 20th Annual Golden Plates
2016 ‎Best Korean winner of Westender Best of the City Dining
2015 TripAdvisor® Certificate of Excellence
2014 Silver Korean winner of Vancouver Magazine's Restaurant Awards
2013 Best Korean winner of Vancouver Magazine's Restaurant Awards