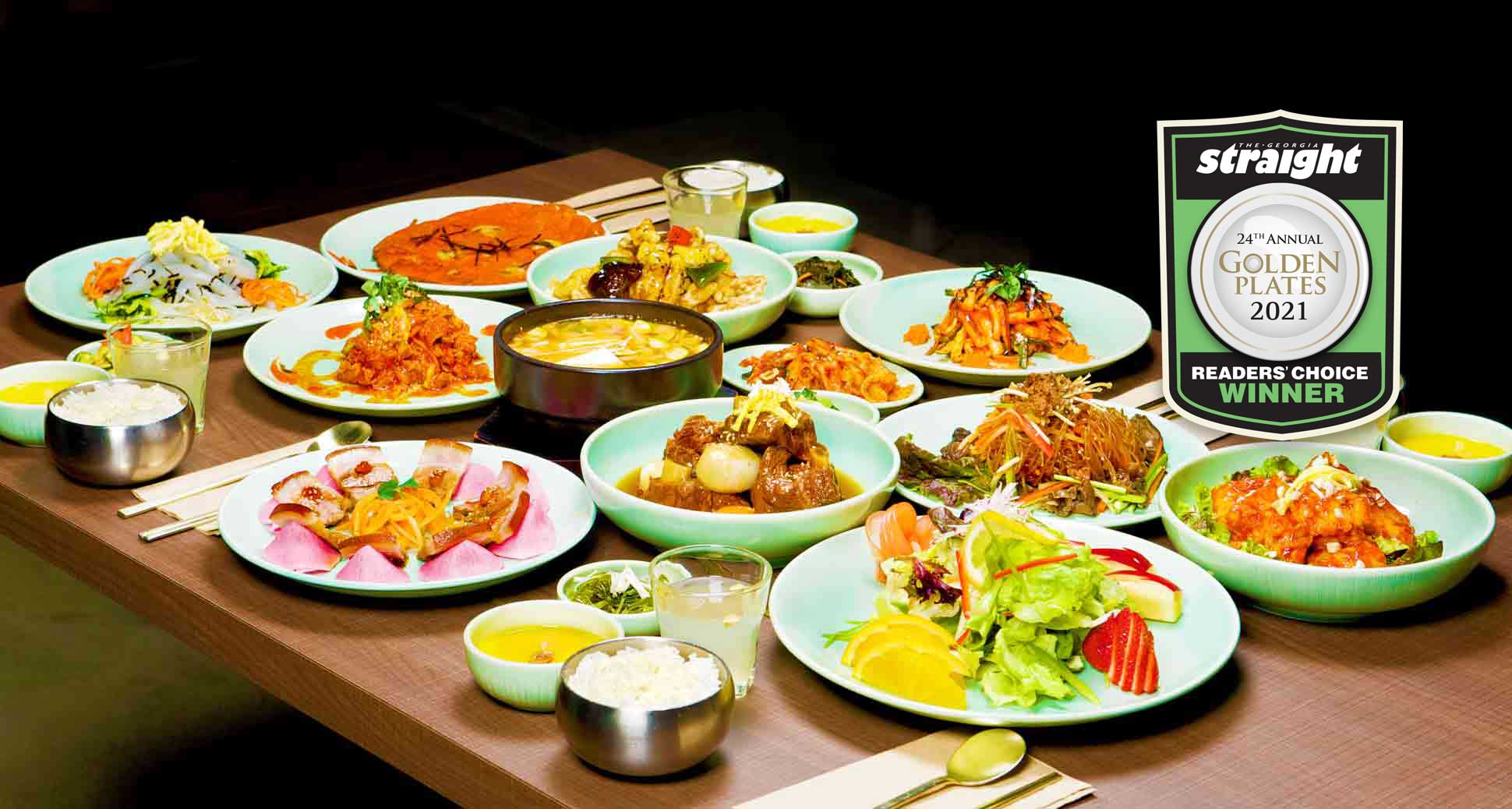 SURA, the Best Korean Restaurant in Vancouver
We're humbled by the results of this year's #GoldenPlates2021 awards. SURA is the Reader's Choice winner of the Best Korean category in 2021 Georgia Straight 24th Annual Golden Plates!
We love you too, Vancouver!! Thanks for showing us so much love and for voting us The Best Korean Restaurant in town!!
SURA Korean Cuisine Restaurant takes pride in using only the freshest & the finest ingredients available to serve our outstanding customers with the authentic Korean cuisine. Visit us today with your loved ones to enjoy exciting flavours!!
① Our New Restaurant Hours
Lunch: Wed-Sun x 11:30am-4pm – Last-Call: 3pm
Dinner: Wed-Sun x 5pm-9:30pm – Last-Call: 8:30pm
Closed on Monday & Tuesday
② Please click the following links to check out our current menu: [Main Menu LINK]
③ We have temporarily stopped serving our Lunch Set Menu. We'll share the update here on hour website once it comes back. Thank you!
④ For your pick-up orders, please call us at (604) 687-7872 between 11:30am and 9pm.
⑤ For your delivery orders, please find us on SkipTheDishes, DoorDash, Uber Eats, or Fantuan Delivery.
⑥ Our "20% off takeout orders" promotion has been halted. Hopefully it'll come back soon.
⑦ PLEASE NOTE: Complying with the BC public health guidance, SURA Korean Cuisine is firmly committed to the health and safety of our employees, customers, and friends. As a result, we've taken steps to control the number of members in our kitchen and ensure to practice social distancing. We've increased our protocols in sanitizing all the necessary surfaces at our premises.
We extend our sincere thanks to you, our loyal customers and friends for the support during this challenging time. Thank you!
Click HERE if you would like to find out more about BC's Restart: A Plan to Bring Us Back Together.
。。。。。。。。。。。。。。。。。
SURA Korean Cuisine Restaurant Vancouver
。。。。。。。。。。。。。。。。。
SURA Korean Royal Court Cuisine:
2021 Best Korean winner of Georgia Straight 24th Annual Golden Plates
2020 Best Korean winner of Georgia Straight 23rd Annual Golden Plates
2019 Best Korean winner of Georgia Straight 22nd Annual Golden Plates
2018 Best Korean winner of Georgia Straight 21st Annual Golden Plates
2017 Best Korean winner of Georgia Straight 20th Annual Golden Plates
2016 ‎Best Korean winner of Westender Best of the City Dining
2015 TripAdvisor® Certificate of Excellence
2014 Silver Korean winner of Vancouver Magazine's Restaurant Awards
2013 Best Korean winner of Vancouver Magazine's Restaurant Awards