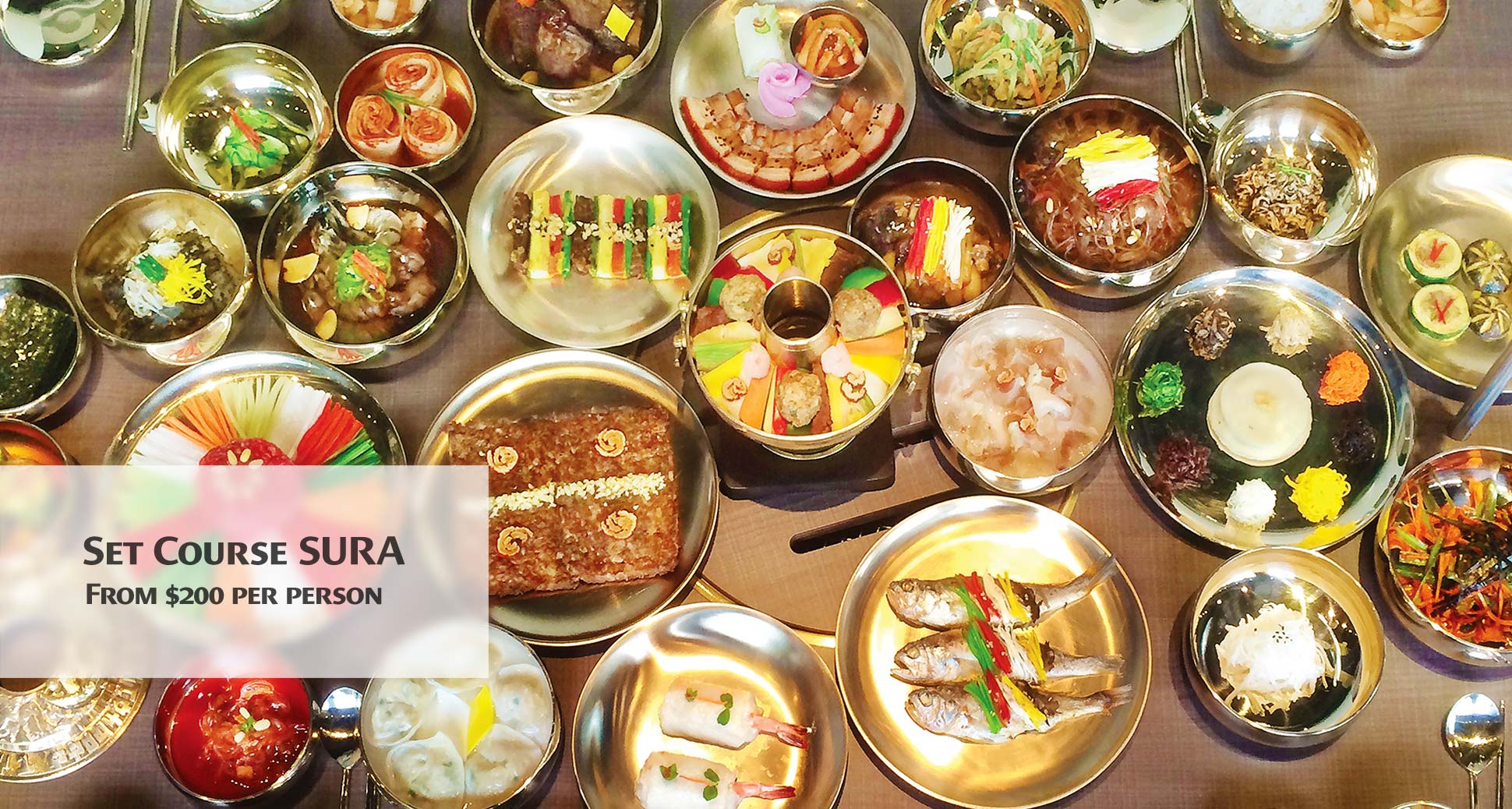 Wonderful world of korean cuisine – pt.01
It's no news by now that the Korean kitchen has officially made landfall in North America and Europe. The signs of culinary popularity are everywhere: Bulgogi has entered the food-lovers' lexicon, up there with umami and bao. Korean barbecues have become staples in most major cities, joining the ranks of hibachi grills and sushi bars. Korean burgers and tacos are a whole genre of American fast food (you can now get them at T.G.I. Friday's).
For more understanding of Korean food, we will present you with a series of articles on the introduction of Korean food, especially Korean Royal Court Cuisine. We hope these upcoming articles will lead you to the wonderful world of Korean cuisine.
SURA
Meals prepared for kings during the Joseon Dynasty, which ruled Korea from 1392 to 1910, are specifically called SURA, and a table set with sura is called SURA-sang (sang means a dining table in Korean). SURA-sang was served twice a day: at ten o'clock in the morning and at five o'clock in the evening. A light snack was served around two o'clock in the afternoon rather than lunch. Early in the morning, a bowl of porridge was served, and it was called Chojo-ban (early breakfast).
At a meal prepared for a king, twelve different side dishes were served. However, the number of dishes actually placed on a table was much more. Additional dishes included two types of cooked rice — plain rice and rice mixed with red beans, two types of soups, three types of kimchi — cabbage kimchi, daikon kimchi and water kimchi, two types of stew — bean paste stew and salted fish stew, three types of jang — soy sauce, seasoned soy sauce and seasoned chili paste, and one steamed dish. In principle, the ingredients and cooking methods should not overlap among dishes prepared for SURA-sang.
The greater meaning of SURA
Preparing all these sumptuous foods for a single person in the royal court may appear absurd and wasteful; however, there was special meaning behind a meal prepared for a king. People would harvest crops, catch fish or hunt animals and present to their king only the finest quality foods appropriate for the current season. The foods presented reflected the hard efforts of the people as well as their living conditions at the time. Therefore, when these foods were cooked and presented to the king, he was able to grasp the lives of his people and the seasonal conditions without roaming all over the nation.
In the next article, we'll take a look at the royal chefs who prepared the King's meal. [Link]
Like our Facebook page to win a $100 gift card in our monthly draw!
SURA Korean Cuisine Restaurant Vancouver
。。。。。。。。。。。。。。。。。
SURA Korean Royal Court Cuisine:
Best Korean winner of Vancouver Magazine's 2013 Restaurant Awards
Silver Korean winner of Vancouver Magazine's 2014 Restaurant Awards